VMware PowerPoint Icons and Images
VMware PowerPoint Icons and Images

If you regularly need to make a PowerPoint presentation which contains information regarding VMware there is some good news for you! A few weeks ago the new icons and images were released via the VMware Communities. They are free for download in pptx format and can be found in the original thread which was started by Bob Stephens.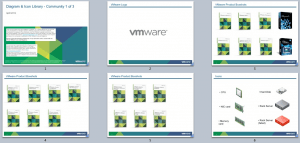 Keep in mind that if you use them you always have to add a certain statement in your presentation.
This document was created using the official VMware icon and diagram library. Copyright © 2012 VMware, Inc. All rights reserved. This product is protected by U.S. and international copyright and intellectual property laws. VMware products are covered by one or more patents listed at http://www.vmware.com/go/patents.

VMware does not endorse or make any representations about third party information included in this document, nor does the inclusion of any VMware icon or diagram in this document imply such an endorsement.