Fling update: Boomerang 2.0.0 released
Fling update: Boomerang 2.0.0 released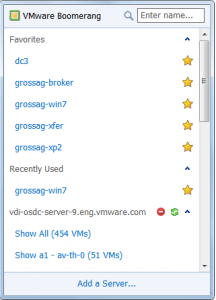 VMware labs released a new version for their Boomerang fling, now bringing the version number to 2.0.0. The download size is about 12MB.
Quote taken from the Fling page:
VMware Boomerang is a radically simple client application that allows you to use multiple vSphere servers simultaneously. Simply select "Add a Server…" to connect and login to an ESX server, vCenter server, or View Connection Server and you will be presented with a list of all available virtual machines.
What's new?
This version has a few bug fixes and the best of all: support for View desktops! For View desktops, you are able to choose between the RDP or PCoIP protocol and launch a remote desktop. Once you have launched a desktop, you will have a fully functional remote desktop experience that matches the existing Windows View Client.
Some features
Supports connecting to multiple ESX and VC servers simultaneously.
Supports connecting to multiple View Connection Servers simultaneously.
Connect to View desktops using PCoIP or RDP.
Allows you to save your credentials for easy login to servers.
Simple user interface gives you quick access to connecting to a virtual machine or issuing power operations.
Servers with large numbers of virtual machines are automatically collapsed into hyperlinks, which you can click to view subsets of the inventory or the entire thing.
Search for virtual machines quickly across all your servers.
vCenter supports activities like vMotion, High Availability, storage configuration, host provisioning cloning, templates, monitoring, alerts and more.