Veeam Availability Suite v8 released: what's in it for you?
Veeam Availability Suite v8 released: what's in it for you?

The Veeam Availability Suite v8 (Veeam Backup & Replication and Veeam One combined) is finally here. We have been giving hints about features for the past months and these are now available for you to use and improve your environment and increase availability!
Veeam Backup & Replication v8 also includes a workaround for the recent found CBT bug in VMware vSphere (KB2090639). Another good reason to use SureBackup!
Instead of just listing all the what's new things I decided to talk about my personal top 5 on the new features. We have a "What's new" document afterall.
1. Backup I/O Control
Backup I/O ensures your workloads availability by reducing impact of backup and replication jobs on production VMs running on the same storage where backed up VMs reside by monitoring the production datastore read latency, and controlling jobs I/O to keep the latency within user-defined acceptable limits. This ensure availability of production workloads during the backup window without unnecessarily sacrificing jobs performance when datastore as load is low, as this happens with legacy solutions offering static per-datastore task limits.

Backup I/O Control works in conjunction with Automatic Intelligent Load Balancing to ensure no new I/O intensive tasks (such as virtual disk backup, restore or snapshot removal) are assigned to the same datastore if its latency is above defined first latency threshold.
Additionally, Backup I/O Control actively throttles Data Mover I/O for existing tasks if the production datastore latency goes above second latency threshold, for example due to production VM starting to execute I/O intensive operation.

To ensure that backups can complete under any circumstances, Backup I/O control will always allow at least one active task per each datastore, and will never throttle any give task to less than 10% of full I/O capacity.
This is for me personally by far the most cool feature in Veeam Backup & Replication v8. No more issues with VM's struggling for resources because the backup is running, no more applications becoming unresponsive because the backup is killing the database,… The list goes on and on. This feature will increase the availabilty AND most important: performance!

2. Veeam Explorer for MS SQL
Veeam Explorer™ for SQL enables you to achieve low RTO and RPO with Microsoft SQL Servers databases protection with the following all-new functionality:

1-click individual SQL database recovery for lowest RTO. No more searching for database files or spending time reattaching them to SQL server using native management tools!
Web-based restore portal for SQL database restores by delegated database administrators
Agentless transaction log backup and replay for no-impact low RPO protection of your SQL databases. Backup your databases as often as every 5 minutes!
Point-in-time SQL database recovery down to individual transaction with the unique transaction logs viewer to ensure lowest possible RPO
Full support for SQL AlwaysON Availability Groups on both backup and restore
How I wish this Veeam Explorer was available back in version 6 when the Explorer for Exchange came out. Never struggling with doing database restores as with Veeam it will become even more easy to recover to a specific transaction or export a database!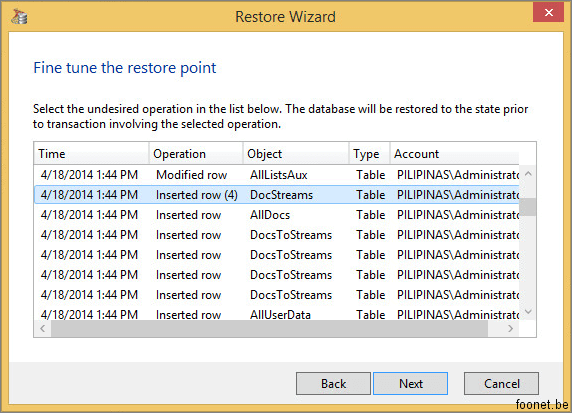 3. NetApp integration (and some IBM as well)
Veeam's storage snapshot integration technologies have been extended to support NetApp storage. Achieve an unprecedented level of data protection through a combination of NetApp's low RPO capabilities and Veeam's low RTO enablement.
The integration of NetApp and Veeam® allows you to:

Create VM backups from storage snapshots up to 20 times faster than the competition
Recover individual VMs, guest files and application items quickly and efficiently from NetApp Snapshot, SnapMirror and SnapVault
Improve DR protection by creating instant, secondary backups from storage snapshots to SnapMirror and SnapVault
Create frequent, zero impact storage snapshots with snapshot-only "backup" jobs managed directly in the Veeam Backup & Replication console, including support for application-aware processing.

NetApp integration support NFS, FC and iSCSI connectivity, and both 7-mode and cluster-mode deployment options. All Data ONTAP storage is supported, including NetApp FAS, FlexArray (V-Series), Edge VSA and IBM N Series.
We could do cool things with HP but thanks to SnapMirror and SnapVault achieving the 3-2-1 rule becomes really easy. This integration can do a lot and we support all ONTAP storage (atleast firmware 8.1) to work all this magic.

4. Certificate-based authentication
Support for certificate-based authentication for both Linux servers used as backup repositories, and guest OS for application-aware processing and guest file system indexing has been added. Supported SSH keys formats include OpenSSH RSA, OpenSSH DSA, OpenSSL PEM, Open SSL PKCS#8, SSH.com and Putty Private Key (PPK).
This is not 1 of the major features but I am happy this has finally been implemented. Years ago I made a feature request about this and it finally got added. This will increase security a lot in regards to those working in Linux environments.
Oh and Veeam can now index Linux machines using mlocate.
5. Snapshot hunter
Detects and automatically consolidates hidden VM snapshots to prevent production VMs from stopping due to datastores overfilling with snapshot files.
Finally no more issues with hidden snapshots in a VMware infrastructure, Veeam will help you find them and eliminate them.
What else?
Besides the features above there is a lot more in the new Veeam Availability Suite. Over more then 200 features and enhancements in total!
Some other cool things are:
Veeam Explorer for Active Directory
AES-256bit End-to-End Encryption
Direct SAN restore: restore thick virtual disks directly through SAN fabric!
Tape proxy: put your tape device anywhere you want!
WAN acceleration for Replication
Replicate from backup files!
New backup method: Forever forward incremental
Self-Restore Portal for Application Owners: restore directly from the application server
As you can see Veeam does it again. We are very happy with the release and again we prove that we are listening to you, building the tools you need.
If you have any questions or need a demo you can always contact your local Veeam represent or hit me up on Twitter.
Oh and expect more technical/practical information on certain subjects in upcoming blogposts ;-).