Announcing an additional VMCE practice exam
Announcing an additional VMCE practice exam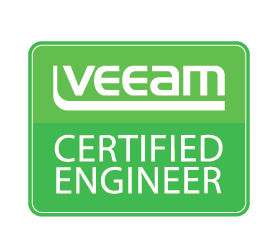 Ever since the release of the VMCE certificate I have been receiving questions related to Veeam products. More often I received questions if Veeam has a full practice exam and besides the VMCE 7 to VMCE 8 practice exam there is no official practice exam.
However there is a practice exam created by Rasmus Haslund. He is a Veeam Certified Engineer trainer who created 50 questions when VMCE 7 came out and this has recently been updated to version 8. Make sure you try these as well as this is a perfect example compared to the real exam. This practice exam is also devided into categories just like the VMCE course.
As explained in my personal experience post I also passed the VMCE exam. After completing it I had a discussion with my colleague Timothy Dewin about creating an additional practice exam as more and more people ask for it.
This practice exam will grow as we receive more specific questions which may be interesting to add.
The practice exam is now published and can be started here.
Best of luck!