New course: VMware vCenter Operations Manager: Analyze and Predict
New course: VMware vCenter Operations Manager: Analyze and Predict
After the FREE training VMware now announced a new training course called "VMware vCenter Operations Manager: Analyze and Predict [V5.X]". This is a 2 day course which can be done online and (live) onsite.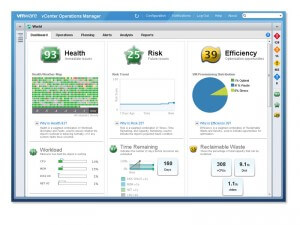 Overview
This course, for experienced VMware vSphere® personnel, teaches skills for the use of VMware® vCenter™ Operations Manager™ as a forensic and predictive tool. The course is based on VMware vSphere® ESXi™ 5.0, VMware® vCenter™ Server 5.0, and vCenter Operations Manager 5.0.
Objectives
Understand major and minor badges and their underlying metrics.
Use these badges to find root causes of common operational issues in a vSphere environment.
Perform capacity management and what-if analyses.
Use the Operations tab, the Planning tab, the Alerts tab, the Analysis tab, and the Reports tab.
Navigate the vCenter Operations Manager 5.0 user interface.
Use heat maps and create a custom heat map.
Use smart alerts to detect system issues.
Outline
Course Introduction
Introductions and course logistics
Course objectives
Introduction to VMware vCenter Operations Management Suite
Understand the role of operations management in the cloud era
Understand the vCenter Operations Management Suite and its packaging
Architecture and Concepts
Understand the data collection methodology of the vCenter Operations Manager architecture
Learn how vCenter Operations Manager collects data
Master the main components of the dashboard view
Navigate the objects tree and understand the badge pane
Working with Dashboards and Badges
Understand the functions of major and minor badges
Use the Health major badge
Use the Risk major badge
Use the Efficiency major badge
Use the Operations tab to navigate to details
Analyzing with Heat Maps
Work with predefined and custom heat maps through the Analysis tab
Working with Smart Alerts
Configure and use smart alerts
Set up email notifications
Working with Capacity Planning and Reports
Schedule, use, and export predefined capacity management reports
Perform what-if analyses
Installing and Configuring VMware vCenter Operations Manager
Understand and meet preinstallation requirements
Install vCenter Operations Manager
Configure vCenter Operations Manager to gather data from its environment
Fore more information and registration head over to the mylearn page.