vSphere Data Recovery (VDR) is dead! Welcome vSphere Data Protection (VDP)!
vSphere Data Recovery (VDR) is dead! Welcome vSphere Data Protection (VDP)!
With the new release on vSphere 5.1 VMware also released a new backup tool called vSphere Data Protection (VDP). This will replace the previous tool called vSphere Data Recovery. With this tool VMware will compete with other third-party software vendors like Veeam and PHD.
What is it?
vSphere Data Protection (VDP) is a new disk-based backup and recovery solution which is released as an appliance (again based on SuSE Linux 11). This solution is fully integrated with VMware vCenter Server (vCenter Server) and provides agentless, disk-based backup of virtual machines to deduplicated storage. It is built on the industry-leading EMC Avamar deduplication backup software technology.
The VDP appliance is deployed with four processors (vCPUs) and 4GB of RAM. Three configurations of usable backup storage capacity are available: .5TB, 1TB and 2TB, which respectively consume 850GB, 1,300GB and 3,100GB of actual storage capacity. Each appliance supports as many as 100 virtual machines, and as many as 10 VDP appliances can be deployed per vCenter Server instance. After the appliance has been deployed, management is performed using the vSphere Web Client with any supported Web browser (Adobe Flash required). vCenter Server 5.1 is required to use VDP but VDP can backup VMs on hosts running vSphere 4.0 and higher.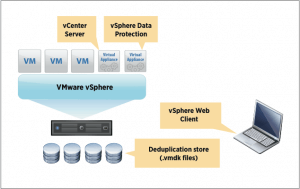 Some benefits
It ensures fast, efficient protection for virtual machines even if they are powered off.
It uses patented deduplication technology across all backup jobs, significantly reducing disk space consumption.
VMware vSphere APIs – Data Protection (VADP) and Changed Block Tracking (CBT) are utilized to reduce load on the vSphere hosts and minimize backup window requirements.
It performs full virtual machine and File-Level Restore (FLR) without installing an agent in every virtual machine.
Installation and configuration is simplified using an appliance form factor.
Management is performed utilizing the vSphere Web Client.
The VDP appliance and its backups are protected using a checkpoint and rollback mechanism.
Windows and Linux files can easily be restored by the end user with a Web browser.
Technical paper
More information can be found in the technical paper.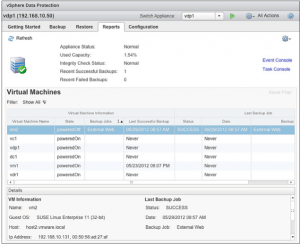 Backup overview