VCAP-Desktop Design Certification Released
VCAP-Desktop Design Certification Released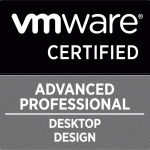 At VMworld 2012 VMware already announced that they would be releasing new certifications related to View and vCloud. Today VMware announced the new Desktop certificate you can achieve: VCAP-Desktop Design Certification (VCAP-DTD). And pretty soon VMware will also announce VCDX-DT.
About the exam
The VMware Certified Advanced Professional – Desktop Design (VCAP-DTD) certification shows that you have continued to enhance your desktop virtualization skills, and validates your ability to design, plan, and optimize VMware View solutions. It shows that you have a strong understanding of VMware View core components and their relation to the data center, as well as View design methodologies and principles.
Achieving a VCAP-DTD certification validates your ability to:
Determine technical requirements for a VMware View-based design
Create VMware View-based desktop and desktop pool designs that meet requirements
Define the VMware vSphere-based infrastructure requirements for a View Design
Before you can achieve this certification you must first be certified in either VCP5-DT or VCP5-DCV.
Useful resources