Veeam Backup & Replication v7 released
Veeam Backup & Replication v7 released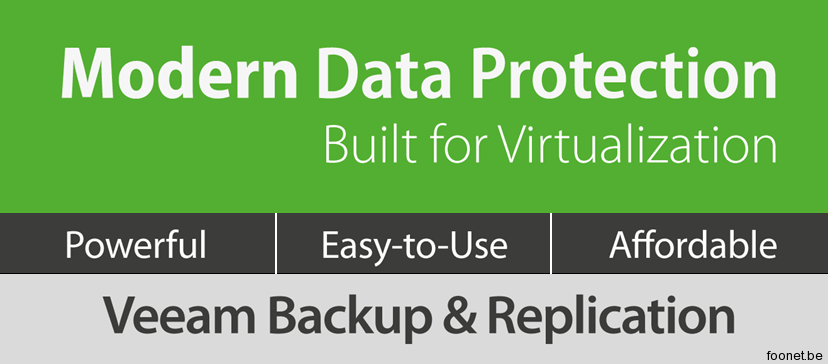 Veeam Backup & Replication v7 is finally here. We have been giving hints about features for the past months and these are now available for you to use and improve your backup environment!
2 disruptive innovations
Built-in WAN Acceleration

Getting backups offsite is critical when you are working with data protection. No more need to script something yourself with rsync, xcopy,… Just use our solution and get backups offsite with WAN acceleration. As with all things Veeam uses it's agent-free so you don't need to keep a track of which agent is up to date and which isn't. It is built by Veeam and optimized for Veeam backups. Got another WAN accelerator? Use it for other applications!

High Performance Backup from Storage Snapshots

Currently we support HP StoreVirtual VSA, HP StoreVirtual and HP StoreServ storage. With this feature we utilize the SAN snapshot option and backup from there. If you have any of the supported devices, improve your backup speed and enable this feature now.
7 Market-leading Features
Enhanced Backup and Recovery for vCloud Director

Using the vCD API, Veeam will display the vCD infrastructure directly in Veeam Backup & Replication, backup all vApp metadata and attributes, restore vApps and VMs directly to vCD, and support restore of fast-provisioned VMs.

vSphere Web Client

Monitor backups and backup infrastructure directly from vSphere, identify unprotected VMs, and simplify capacity planning.

Veeam Explorer for Microsoft SharePoint

Veeam Explorer for Microsoft SharePoint provides instant visibility into SharePoint backups, advanced search capabilities, and quick recovery of individual SharePoint items.

Virtual Lab for Hyper-V
Veeam Extends U-AIR, SureBackup and On-Demand Sandbox to Hyper-V
Virtual Lab plus vPower delivers agent-free recovery of individual objects from any virtualized application, automatic verification of every backup, and easy setup of isolated environments for testing, training and troubleshooting.
Native Tape Support
Native Tape Support provides another option for archiving Veeam backups – disk, cloud and tape. It supports virtual tape libraries (VTLs), tape libraries and standalone drives. And, it's fully integrated into Veeam Backup & Replication and tracks VMs and restore points across tapes, making restores simple.
Enhanced 1-Click Restore
Self-service recovery of VMs and guest files
Enhancements enable fast and easy VM restores, and new delegation options let administrators safely empower business owners for recovery of their own files and VMs.
Virtual Lab for Replicas
Reduce risk and put your replicas to work
SureReplica lets you automatically verify every restore point in every replica, and Virtual Lab for Replicas also delivers fastest agent-free recovery of application objects (U-AIR) and On-Demand Sandboxes for testing, training and troubleshooting.
But wait! There is more! We added 75+ additional enhancements!
The full list can be found in our what's new PDF but here are a few really cool features.
A RESTful API, no more bound to PowerShell 😉
Parallel processing of multiple VMs
Parallel processing of virtual disks within VMs
Credential manager
Backup Copy Jobs with Grandfather-Father-Son (GFS) policy
Decreased CPU usage on proxy servers, from 2 vCPU to 1 vCPU!
File level recovery for Novell Storage Services (NSS)
1-click job cloning
Real-time statistics shown when selecting the job, no more double clicking!
Number of days remaining for your license in the startup screen
Silent installation for Veeam Backup & Replication server and Enterprise Manager
Improved log exporting, just export what you need making it easier for you (or support) to debug
As you can see Veeam does it again. We are very happy with the release and again we prove that we are listening to you, building the tools you need.
Oh and expect more technical/practical information on certain subjects in upcoming blogposts ;-).