New Fling: VMware Tools for Nested ESXi by VMware Labs
New Fling: VMware Tools for Nested ESXi by VMware Labs
VMware Labs released a new Fling called VMware Tools for Nested ESXi. The download is available as vib and is about 1.8MB.
This VIB package provides a VMware Tools service (vmtoolsd) for running inside a nested ESXi virtual machine. The following capabilities are exposed through VMware Tools:
Provides guest OS information of the nested ESXi Hypervisor (eg. IP address, configured hostname, etc.).
Allows the nested ESXi VM to be cleanly shut down or restarted when performing power operations with the vSphere Web/C# Client or vSphere APIs.
Executes scripts that help automate ESXi guest OS operations when the guest's power state changes.
Supports the Guest Operations API (formally known as the VIX API).
Screenshot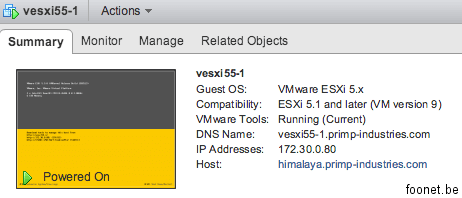 (Screenshot by William Lam)
Requirements
A VMware product on the host that is compatible with VMware Tools 9.7.
Nested ESXi running vSphere 5.x
Installation
There are 2 methods to install the VIB:
Upload the VIB file to a datastore and run: esxcli software vib install -v /vmfs/volumes/[DATASTORE]/esx-tools-for-esxi-9.7.0-0.0.00000.i386.vib -f
Install from the internet: esxcli software vib install -v http://download3.vmware.com/software/vmw-tools/esxi_tools_for_guests/esx-tools-for-esxi-9.7.0-0.0.00000.i386.vib -f