Preview: Veeam Endpoint Backup integration with Veeam Backup & Replication
Preview: Veeam Endpoint Backup integration with Veeam Backup & Replication
Last friday Veeam announced the RC for Veeam Endpoint Backup and with it also the integration towards Veeam Backup & Replication v8.
The video below demonstrates how easy it is to backup any endpoint computer towards the Veeam Backup repository and afterwards export the backup to a VMDK and use it with a virtual machine.
To test this there are 2 requirements:
Veeam Endpoint Backup FREE RC has to be installed on an endpoint device
Veeam Backup & Replication v8 patch 2 has to be installed
Currently patch 2 is also available as a RC built but it can't be used on a production server. You will need to install a temporary Veeam server. This is done to prevent any impact on your production server. If you try to install it on your production server the following error will appear: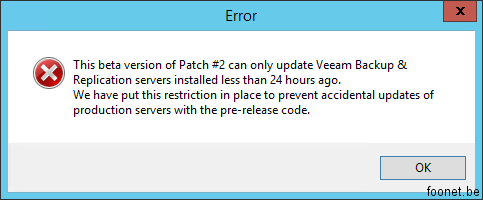 What's new (taken from the forum post)
New Veeam Endpoint Backup features include:
Backup directly into Veeam backup repositories.
Full support for Bitlocker drive encryption on backup and restore.
Ability to control power state of the computer after daily backup.
"When backup target is connected" event (former "On storage attach" event) now supports both USB drives and remote storage, and triggers when you connect to a network from which your remote backup target is reachable.
Metered internet connections are now detected and not used to perform backup to remote targets.
More smart way of handling retries (both in scheduler and UI).
Customizable backup destination folder.
Support for rotated USB drives.
Backup is automatically prevented from starting when a device is running off battery and battery level is less than 20%
Slightly improved backup performance (local data movers "talk" over shared memory, as opposed to network sockets)
Recovery Media enhancement (virtual keyboard w/multi-language layout support, USB 3.0 devices support)
New shiny setup!
New B&R features around integration include:
Restore guest files and application items from endpoint backups.
Export physical disks contents from backup into VMDK/VHD/VHDX virtual disk files.
Basic monitoring and management of all incoming backups, including email notifications to B&R admins about endpoint backup status.
Ability to assign end users permissions on individual backup repositories (permission settings dialog becomes available upon the first connection
attempt from Veeam Endpoint Backup to a B&R server, before that it can be accessed by Ctrl-right-clicking the backup repository).
Traffic throttling settings from Global Network Traffic Rules now apply to Veeam Endpoint Backup jobs as well.
Support for endpoint backups in Backup Copy and Backup to Tape jobs.
Ability to encrypt endpoint backup stored in Veeam backup repositorites.
For more information about the current RC check out the Veeam forums.
For more information about Veeam products check out www.veeam.com.
Enjoy!