My personal VMCE 8 experience
My personal VMCE 8 experience
This blogpost is a bit overdue but I still wanted to share my experience with the Veeam Certified Engineer exam.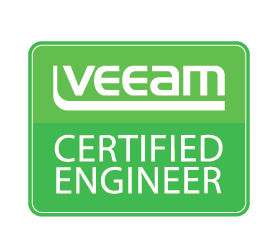 The Veeam Certified Engineer (VMCE) course is a technical deep-dive that provides extensive information on Veeam solutions. This 3 day course will go further then the Veeam Sales Technical Professional as this course also adds lab time with an overview on Veeam Backup & Replication and Veeam One. Currently there is no Management Pack module but I am sure this will be added soon as it is part of the Veeam portfolio.
In short (taken from the VMCE page): The VMCE certification gives Veeam experts knowledge that's highly sought-after for implementing Veeam solutions.
As a VMCE, you can:
Identify and resolve issues more efficiently
Distinguish yourself from your peers
Get more functionality out of Veeam solutions
After following the course you are allowed to book an exam via Pearson VUE. After passing you will be granted the certificate and you can call yourself a VMCE. The exam itself currently holds 50 questions which should be answered within 1 hour. The exam is in the same style as for example the VMware Certified Professional exam meaning you can go back and forth between questions and mark a question for review if you aren't sure about your answer.
Preparing for the exam
The best way to be prepared for the exam is to have a lab where you can test all features discussed in the course. Veeam offers free NFR licenses (1 year, 2 sockets) or you can also request these if you are a Veeam partner (in case you require more then 2 sockets).
My advise here is that even if you did all the labs during the course, redo them again. Take a look at all the extra buttons and see which are the advanced options. If you follow the coursebook from A to Z you will know everything you need to know to pass the exam but hands on will be needed.
An additional way of resources is the Veeam helpcenter. Is something unclear on how it works? Look it up using the helpcenter. You can also use the user guide but personally I prefer the helpcenter as it is easier to bookmark things then searching a full PDF again.
Keep in mind that Veeam offers multiple technical resources which are nicely listed on the resources page. And if you don't like to read things you can always search for a specific video in the recorded webinars.
If you want to do a VMCE 7 to VMCE 8 test exam make sure to check the Veeam University as there is a small test exam.
Finally use your contacts if you want to know more about a certain feature. This can be a local Veeam contact or you can even use social media such as Facebook and Twitter.
Taking the exam
The exam is straightforward as mentioned: 50 questions, 60 minutes. To pass the exam you will need to score 70%.
I scored 82% the first time and I realised after the exam that if I would have spent some more time on specific course elements I could have scored higher. In my case I didn't look into the full Veeam One details and even though I know the product there are some questions which really put your knowledge to the test. If you are like me and there is a question where you think all answers might be correct then go for your first impulse.
Don't overthink the questions as this will cost you time, it's better to mark a question for a review and come back to it later. By the time I was finished going through the exam I marked 4 questions but I was already sure that I passed. I did review those 4 questions but didn't change my answer.
The VMCE course is split into modules but I found that the questions are totally random. It's not made in that way that you will get 3-4 questions about a specific module. For example I had 6 questions related to specific product features where in terms of licensing questions I only had 2. Another important side note; even though Veeam support both VMware and Hyper-V none of the questions are really specific. Everything is quite general with the exception on "Backup from Storage Snapshots" as this is a VMware feature only.
Important things you should know before starting:
Don't overthink questions to long, mark them and come back
Write down things you found hard to remember as soon as you enter, you might need them and this way you have them on paper
60 minutes is plenty of time
Certain questions are straightforward and easy, use these to reclaim lost time
You will only know if you passed once you leave the room, finishing the exam will not tell your score directly
Best of luck to everyone going for VMCE and as mentioned feel free to contact me or Veeam via social media. Do keep in mind that we don't have the questions nor will we ever give them to anyone ;-).