Veeam Backup & Replication v9: My favourite top 5 unannounced features
Veeam Backup & Replication v9: My favourite top 5 unannounced features
The Veeam Availability Suite v9 (Veeam Backup & Replication and Veeam One combined) is finally here. We have been giving hints about features for the past months and these are now available for you to use and improve your environment and increase availability!
Instead of just listing all the what's new things I decided to talk about my personal top 5 on new smaller, unannounced features. We have a "What's new" document afterall.
1. Per-VM backup file chains
Per-VM backup file chains provide a new backup repository option that makes any backup job written to a repository store each VM's restore point in a dedicated backup file, delivering 10x faster backup performance with multiple write streams by leveraging parallel VM processing.
For me this is the biggest feature because this allows you to leverage your backup storage investment to a maximum. Before v9 a backup job containing multiple VM's would be stored in 1 backup file (for either full and incrementals). By using the new option Veeam Backup & Replication will store 1 backup file chain per VM (for either full and incrementals).
Combine this with the new Scale-Out Backup Repository and you can use your backup storage to a better maximum compared to before (usage and performance wise). You could even make one job where you add your vCenter or SCVMM cluster, point to to a Scale-Out Backup Repository and let Veeam take care of everything :-). For more information on Scale-Out Backup Repositories I suggest you read this post by Luca Dell'Oca.
This setting is configured by default when using a Scale-Out Backup Repository however when configuring a new backup repository or editing an existing one this is an option which can be found under the advanced button. Also if you change the behaviour on an existing one Veeam Backup & Replication will take care of everything for you.
2. Parallel processing for Backup Copy Job and Tape
With v9, Backup Copy jobs will now process multiple VMs in parallel, like primary backup jobs. This improves the backup copy and retention processing performance due to removing "dead time" between each VM, and will further speed up processing when per-VM backup file chains are enabled on the target backup repository.
As it states this will help you in getting a copy of your backups to disk more rapidly. The best thing about it is that this option is enabled by default so no configuration is needed.
Parallel backups no longer require the creation of multiple media pools. Backup to Tape and File to Tape jobs can now run in parallel even when pointed to the same media pool. Backup to Tape jobs will process multiple backup chains (either from different source backup jobs, or created with a per-VM backup file chain option) and span them across tape drives automatically to significantly reduce your tape backup window.
A big requested feature finally made it into the release. This setting can be configured per media pool while creating or editing it.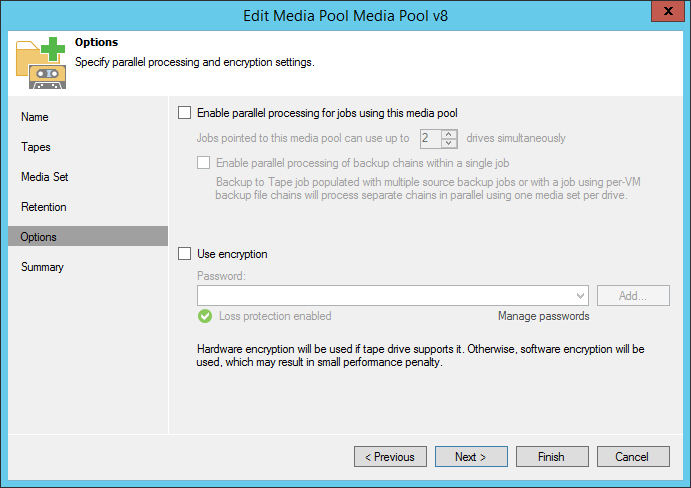 3. vPower cache
vPower® engine will now cache recently accessed backup file blocks in RAM, which will help speed up all functionality that relies on Instant VM Recovery™.
This is important for faster recovery (Instant VM Recovery, file level recovery,…) and especially when you are using deduplication storage (such as HPE StoreOnce, EMC DataDomain, ExaGrid,…) as a backup repository. By default every VM has 40 cached blocks (meaning backup block, 1Mb by default).
4. Storage-level corruption guard
Backup files produced by primary backup jobs can now be periodically scanned to identify storage issues, such as a bit rot. Corrupt data blocks are auto-healed by retrieving correct data from the production storage, increasing the reliability of forever-incremental backups and removing the need for periodic full backups.
This is a feature which was already possible on backup copy jobs and has now been made available in the primary job. This is something you should run atleast once a month to guarantee your files to be fine so you can recover from them. As always running SureBackup is also advised.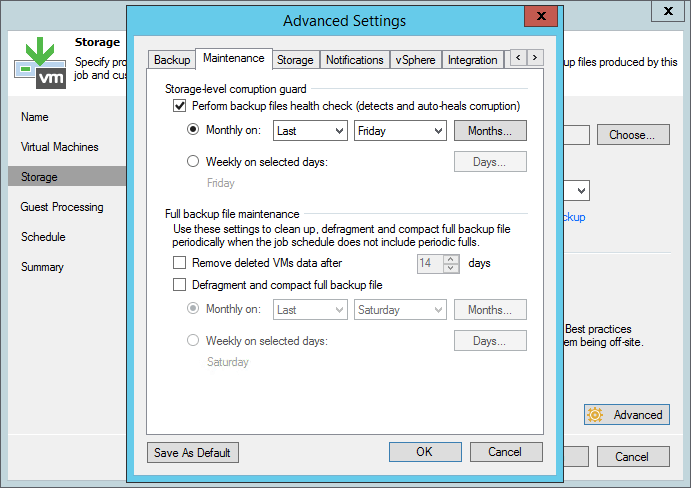 5. BitLooker
BitLooker™ is Veeam's unique, patent-pending, advanced data reduction technology designed to further reduce backup file size and replication bandwidth usage by 20% or more. It allows customers to easily find and reduce useless chunks of data congesting their backup storage resources by providing the following three capabilities:

Excluding deleted file blocks
Excluding swap and hibernation files
Excluding user-specified files and folders
BitLooker will even optimize the backup storage usage even better (combined with Per-VM Backup Chains) for any Windows server with NTFS disks. There are 2 options to configure in the interface.
Option 1 is to exclude deleted file blocks which is an advanced option under the Storage tab.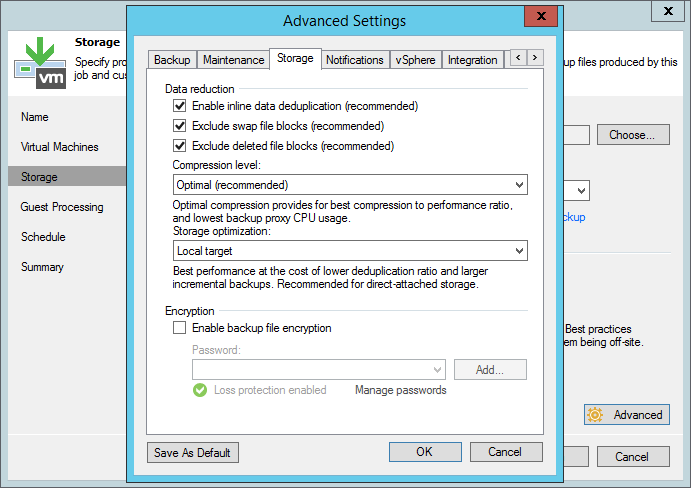 Option 2 is the exclusion of specific user files and folders which can be found under the Applications button on the Guest Processing tab.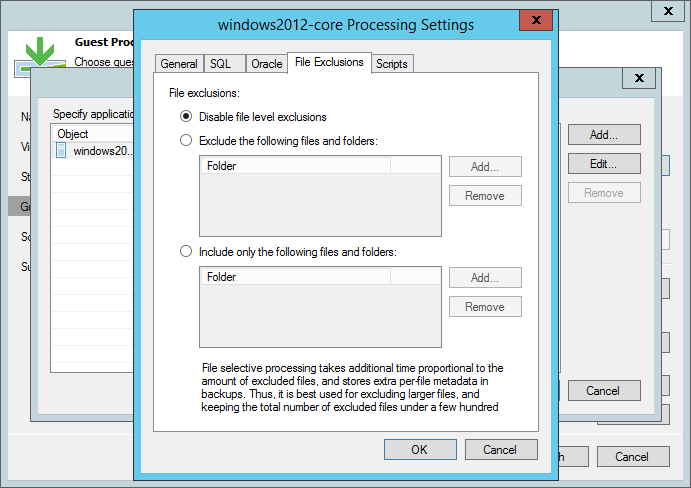 What else is there to check out?
Besides the features above there is a lot more in Veeam Backup & Replication v9. Other great things are:
Veeam Cloud Connect Replication (easily create a DR plan using a Veeam Cloud Provider)
On-Demand Sandbox for Storage Snapshots (run a sandbox with the same performance as your production VM's)
Direct NFS Access (works by default)
Veeam Explorer for Oracle (for both Windows and Linux)
For a full list make sure to read the release notes.
As you can see Veeam does it again. We are very happy with the release and again we prove that we are listening to you, building the tools you need.
If you have any questions or need a demo you can always contact your local Veeam represent or hit me up on Twitter.