Veeam Backup And Replication 6.1 released
Veeam Backup And Replication 6.1 released
Today Veeam announced their new major release: Veeam Backup and Replication 6.1.
This major release includes several improvements and some interesting new additions.
VeeamZIP:
Version 6.1 includes a new capability for performing ad-hoc backups. In many ways, it functions like a zip utility for VMs. For this reason, it's called VeeamZIP.
Backup a VM on-the-fly: Instead of running the regular backup job (which typically contains multiple VMs and a specified number of restore points) or creating a new backup job, simply VeeamZIP the VM.
Archive a VM: VeeamZIP is a powerful weapon in the fight against VM sprawl. You no longer need to keep unused VMs just in case someone comes around later asking for them. Instead, VeeamZIP and then delete unused VMs. It's a great way to reclaim expensive production storage.
Copy a VM: To install the VM in a new location, simply restore it from the backup using Veeam Backup & Replication or Veeam BackupTM Free Edition.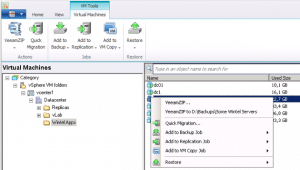 Veeam Backup Free Edition
Version 6.1 introduces a new free mode. The free mode, called Veeam Backup Free Edition, provides a subset of the functionality in the full (paid) editions of Veeam Backup & Replication, including VM and file recovery. So if you ever need to perform a restore but don't have access to a Veeam backup server, you can simply download and install Veeam Backup Free Edition. You don't need a license key, and you can recover VMs, VM files and guest files.
1 disadvantage (in my opinion): this will also install SQL Express on your local server.
New console
Version 6.1 introduces a new console!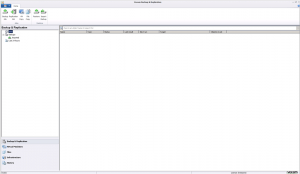 There are 4 main enhancements:
Use of Microsoft design standards. (Think of the Office ribbon 😉 )
Dynamic nodes.
Extensibility.
Instant search.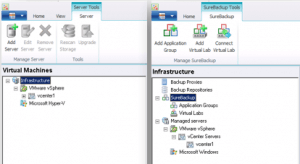 vPower for Hyper-V
Version 6.1 extends Veeam's patent-pending vPower technology—as well as Instant VM Recovery—
to Hyper-V. vPower runs a VM directly from a compressed and deduplicated backup file on regular backup storage. You can run a VM from any restore point (full or incremental), without changing the backup. vPower enables Instant VM Recovery, which lets you restart a failed VM from a regular backup in as little as 2 minutes.
Besides these big changes there are also a few minor fixes and updates. Here are a few:
View and restore from Windows Explorer
Shared backup proxy servers and repositories
Concurrent job limit
Backup proxy server replication
Disabling inline deduplication
ReFS support
Hot Add improvement on VMware
For a complete update on all the new sweet goodies I suggest reading the What's New PDF.
Veeam proves again that they are the #1 for VM Backups!