Veeam Backup for Office 365 1.5 released
Veeam Backup for Office 365 1.5 released
With the GA release of Veeam Backup for Office 365 1.5 several new features have been added to extend the solution to further improve Office 365 backups and making your life more easy.
Whether you have completely migrated to Office 365, still use a hybrid Exchange and Office 365 deployment or fully offer Office 365 backup services, your business objectives remain the same. You must remain in control of your data and you need Office 365 backup. In this way you can recover anytime and any object when u want and whenever u want it!
With Office 365, it's your data. You own it so make sure you control it!
What's new?
Distributed, scalable architecture – for enhanced scalability in distributed environments with several Remote Offices/Branch Offices and in service providers' infrastructures:

Backup proxies take the workload off the management server, providing flexible throttling policy settings for performance optimization.
Support for multiple repositories streamlines data backup and restore processes.

Support for backup and restore of on-premises and hybrid Exchange organizations – allows you to choose from a variety of configurations and usage scenarios and implement those that meet your particular needs.
Increased performance for restore operations allows for up to 5 times faster restores than in v1.0.
Restore of multiple datastore mailboxes using Veeam Explorer for Microsoft Exchange simplifies workflow and minimizes workload for restore operators, as well as 1-Click restore of a mailbox to the original location.
RESTful API and PowerShell cmdlets will be helpful for automation of routine tasks and integration into existing or new portals.
Support for backup and restore in Microsoft Azure Germany and Microsoft Azure China regions.
Many enhancements were made to the UI, including main window, wizards, dialogs, and other elements, facilitating administration of the solution.
The main UI had some changes as well in regards to the multi proxy & repository approach: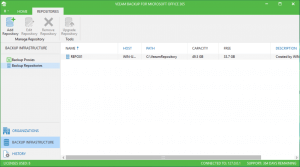 Among these enhancements to the UI there is now an option to connect to a Veeam Backup for Office 365 server directly from the Veeam Explorer for Exchange: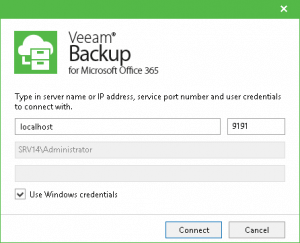 What does this all mean for me?
The new release brings the power of a multi tenant environment combined with the power of automation. This allows you to fully automate your Veeam Backup for Office 365 services and onboarding process. There are already some RESTful API examples available who can assist you on getting started.